Are you someone who wants to make a difference in someone's life? Are you compassionate, reliable, and trustworthy? If so, Home Caregivers has limited slots available for our Adult Foster Care Program.
Our Adult Foster Care Program is a residential service allowing individuals who are not able to live on their own, due to their age and disability, to reside with a family in their local community. The person requiring support is encouraged to become a part of the family and community. Many of the people needing support are wanting to exit a nursing facility in effort to become reconnected with their community and attain a fulfilled life. Under this arrangement, the person supported must receive individualized, person-centered services that promote independence to adapt, retain, and improve skills necessary to reside within your family and community setting. This service will include direct assistance with daily activities such as eating, dressing, bathing, and meal preparation, assistance with housekeeping, attending doctor's appointments, being cognizant of the person's physical health, and medication administration. For the services to be successful, this person must be treated as a member of the family.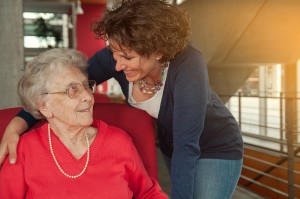 At Home Caregivers, our goal is to provide a level of care for this person as if they were a member of your immediate family and expand their vitality through empowerment and community integration. It is essential that the person supported must be welcomed into their new home with compassion and care. Please note that living conditions within the home must meet proper criteria, and background information on adult family members must be provided. Our application process is of several steps. First, we will issue and review an application covering all requirements. Following your review, an in-home meeting and evaluation will be held for the foster family. Once approved, we will introduce you to potential members. Finally, we will assist with the transition process and continue to provide routine oversight, in the form of scheduled phone calls and visits to your home.
Please understand that this is NOT an employment opportunity! This is an opportunity to make a real difference and change someone's life. It just so happens that, if done right, this service offers compensation for your efforts.
Compensation for this service is $80.00 per day, per person supported. Seven days a week, 365 days a year. This income is considered tax free because of the nature of the service and will be paid in bi-weekly installments
For More Information please email us at: jim@homecaregiverstn.com Or Call: 931-337-5194